The Daylite plugin Web&Map makes it easy to create companies you're working with right away. Useful information such as postal address, telephone number and link to website are added to the company record automatically.


Creating a new company record with Web&Map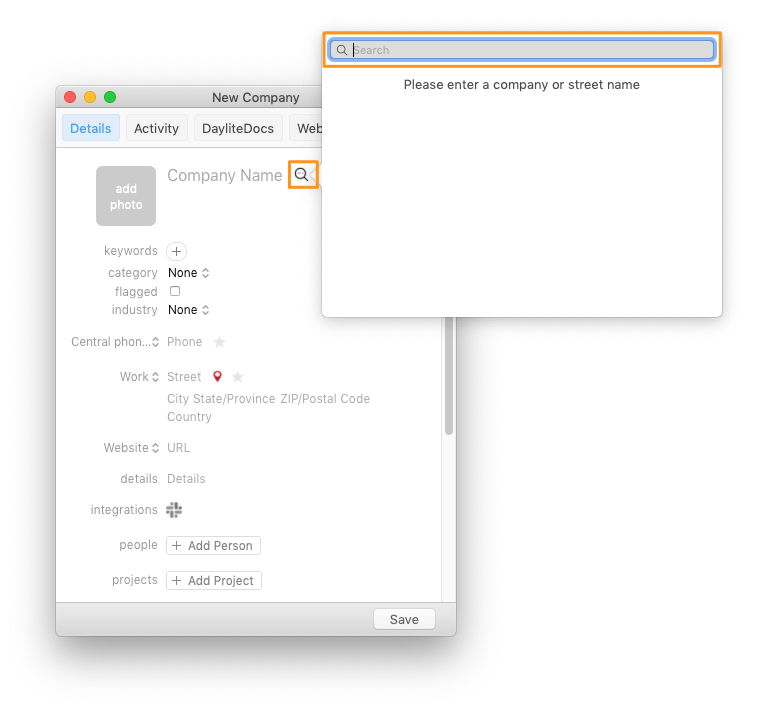 Navigate within the Daylite sidebar to Contacts -> Companies
Create a new company by using the + New Company button. You can find it in the upper part of the Daylite window
Click on the magnifier icon, next to the field Company Name
Enter the company name or street name to begin the search
Double-click on the address you'd like to add to the company record
If required, add further information like category or keyword and save the record

Alternatively, you can create a company record from a search result of your map search which you can find in the left sidebar in Daylite.

Take a look at the following article for instructions:
How do I search for contacts, appointments and addresses in Web&Map?



Related articles
What is Web&Map?
How do I add my own web service for searching with Web&Map?
How do I open websites in Daylite with Web&Map?
🎬 How do I use the web browser in Web&Map?
How do I configure which web services are displayed in Web&Map?