In Daylite you can easily manage your appointments and invite other people to appointments. This article describes how to accept or decline appointment invitations in Daylite.
When accepting and declining appointment invitations it makes a difference whether you are invited by a user of the same Daylite database or by an external person.
Appointment invitations within a Daylite database
If you receive an appointment invitation within a Daylite database, you have two options to accept or decline it.


Option 1
You will receive a notification about the invitation to an appointment in Daylite. This invitation can be found in the notification centre

and offers you the options More..., Decline and Accept.

Click at More... to get more details and to see other linked Daylite objects.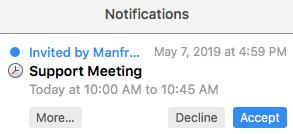 Option 2
The second option is to call up the appointment via the Daylite calendar.
There you can easily accept or decline the appointment and directly see all details.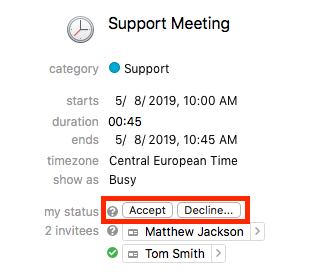 Appointment invitations from external persons
When you receive an invitation from an external program, the Daylite Mail Assistant displays the following: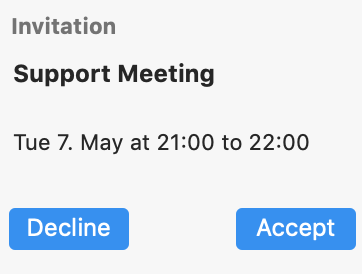 With the Mail Plugin Daylite Mail Assistant, you have the possibility to accept or decline these appointments directly out of Mail. By accepting the appointment, the appointment is created in Daylite and can be viewed via the calendar.
Related articles
How do I install the Daylite Mail Assistant (DMA)?
Why can't I see the Daylite Mail Assistant (DMA) in Apple Mail?