In Daylite, tasks can be created in different ways. In the following article we list all possibilities to help you find the right one for your workflow.

Via the menu bar

Use the menu bar to quickly create a task:
Launch Daylite
In the menu bar, choose File -> New -> New task
The key combination ⇧⌘T is also displayed here, with which you can also create a task.

With the button for new objects
At the top left of the Daylite window is a drop-down menu for creating new objects. This menu also contains a button to create a task. The label of the button changes with the record type that is currently selected.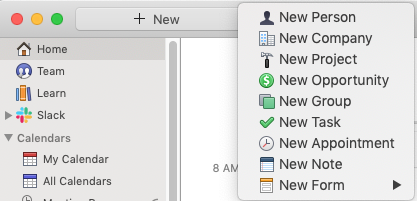 In a pipeline
In a project or opportunity with a pipeline, you can add tasks within a pipeline level. To do this, simply click the New Task button in the desired pipeline level. Provide the task with a title and, if desired, additional details.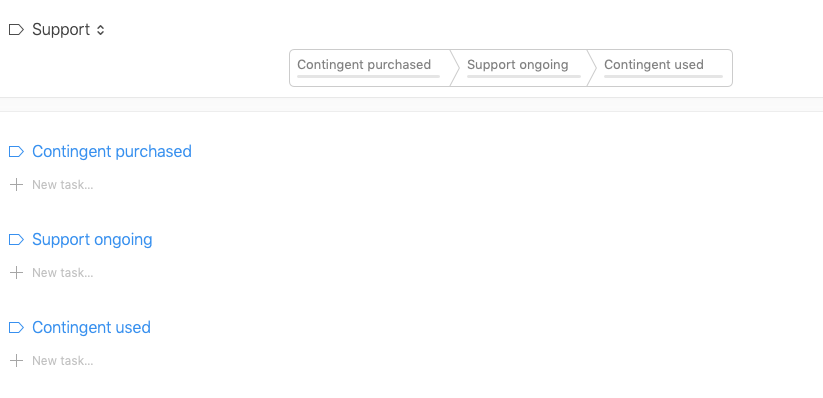 Using the quick link button
When you view a person, company, project or opportunity record in the standard or list view, you can create a new task using the Quick Link button. The created task is automatically linked to the selected record.
Click the icon with three dots and select New Task, then enter the required details


When you create a new record
When you create a new record for a person, for example, you can also create a task directly linked to the newly created record:
In the entry screen of the new data record to be created, click on the button with the three dots in the upper right-hand corner of the screen.
Choose New task
Enter the desired details
Click Save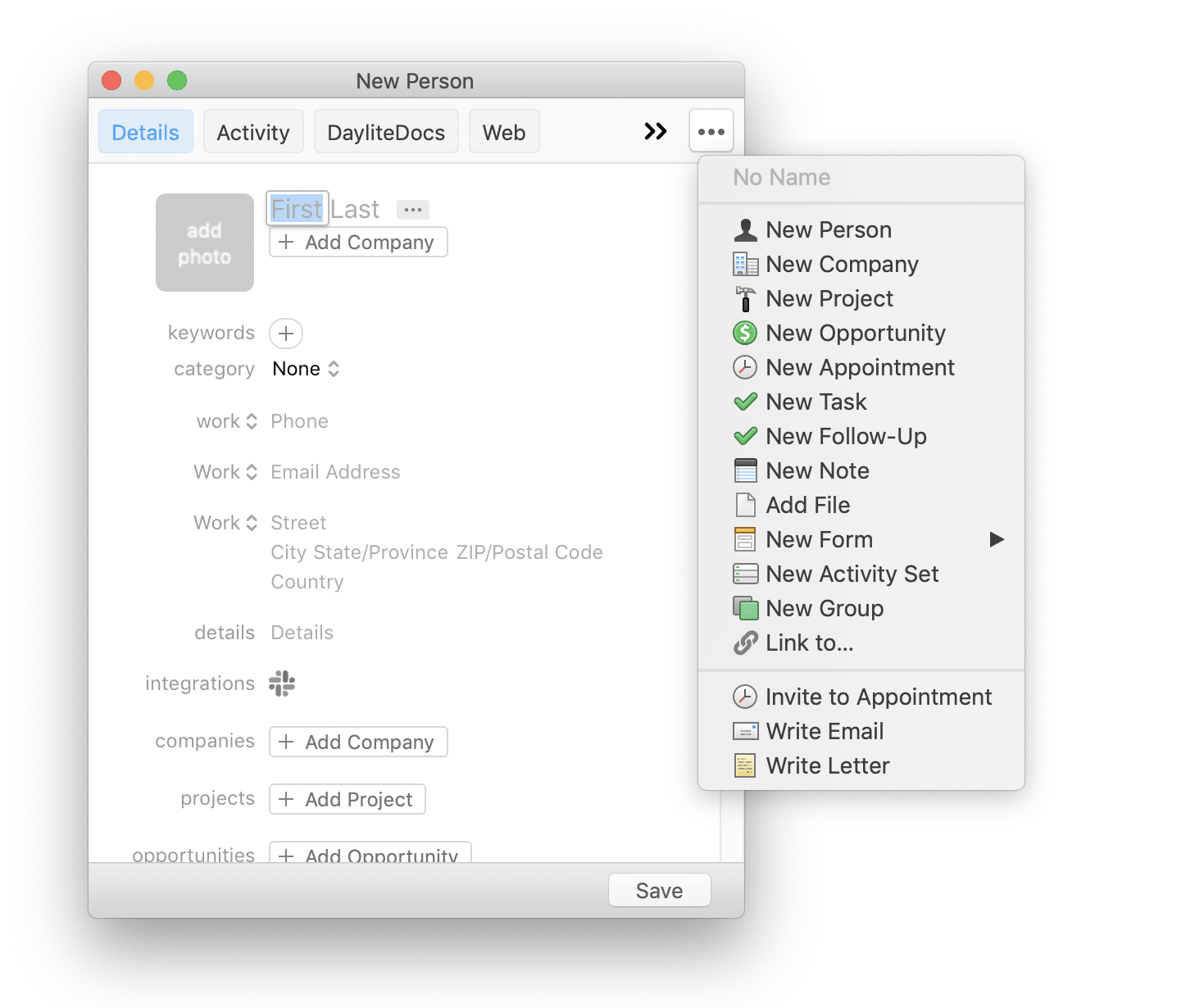 How do I create a shortcut for fast task entry?
In Daylite, it is possible to define a shortcut for creating tasks using a shortcut key combination. This allows you to create a Daylite task without interrupting your work, no matter which program you are using.
On the menu, click Daylite and select Preferences
Open the General settings
Under Quick Task Command for Quick Task Entry, click the Click to record the task... button and enter the desired key combination

Please note: Use a shortcut key that is easy to remember and is not already used by the operating system or Daylite. To avoid conflicts with existing shortcuts, please check whether your desired shortcut may be used by Apple for Mac keyboard shortcuts.


If you now use this key combination, a Daylite task window will open even if you are currently working in another app.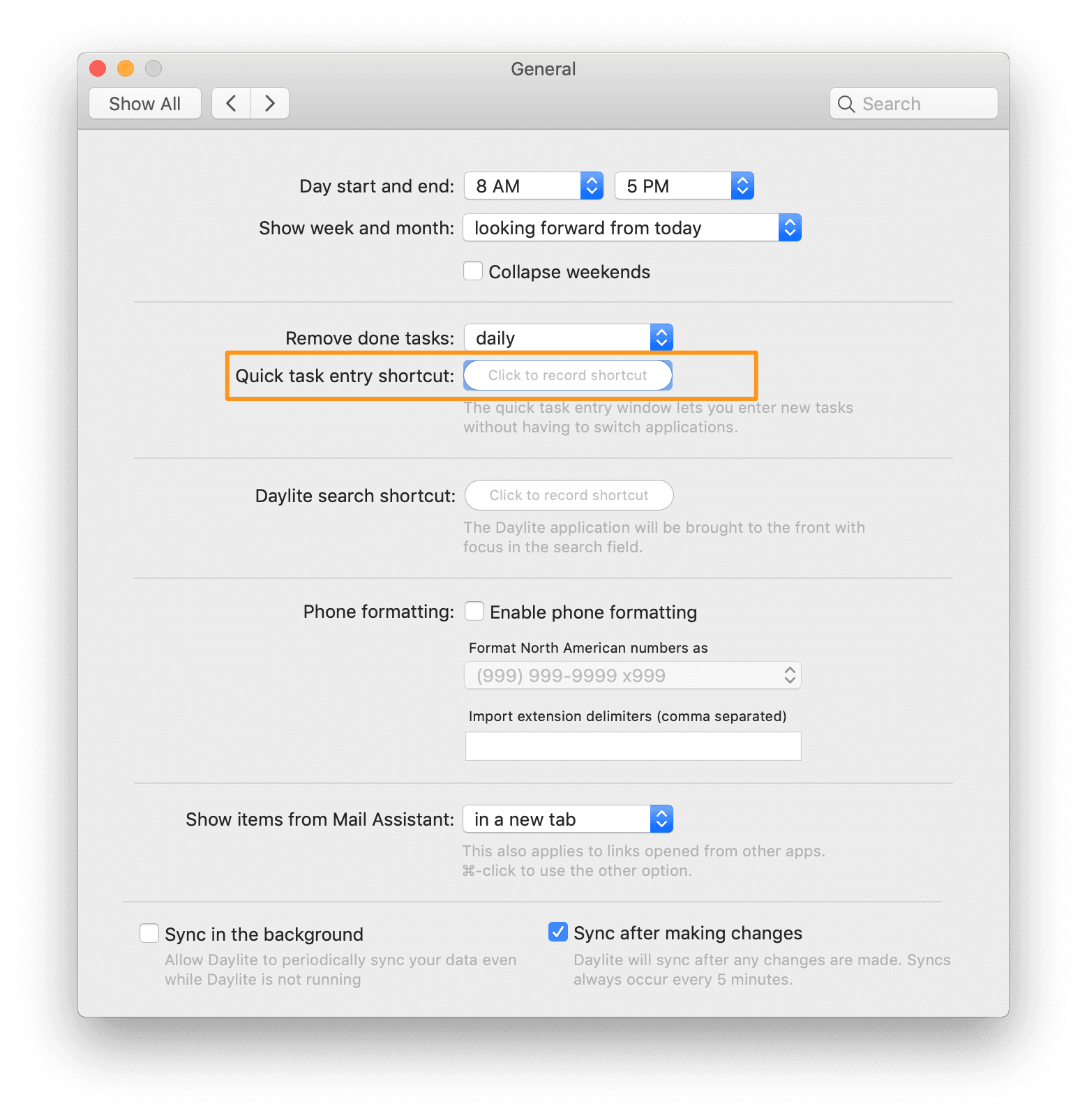 If you want to create several tasks at the same time, please read our article How to create multiple tasks.

Related articles
Can I sort tasks by date in Daylite?
🎬 How can I create an appointment for a task with ProductivityTools?
How do I delegate tasks?
How do I manage and prioritize tasks in Daylite?