If your team spends too much time looking for information or for files it cannot complete projects on time.
Daylite helps you closing your projects successfully because it summarizes all information.

This article covers:
- How to create a project
- How to add details and tasks
- How to categorize a project
- How to keep the overview of all involved people and their roles


How to create a project
A project can be created in multiple ways: You can create a new project in Daylite, from an email, from an opportunity or from your iPhone and iPad.

In Daylite
The easiest way to create a project is the button + New. This button changes based on what you view in Daylite. To create a new project, select All Projects or My Projects then choose + New Project.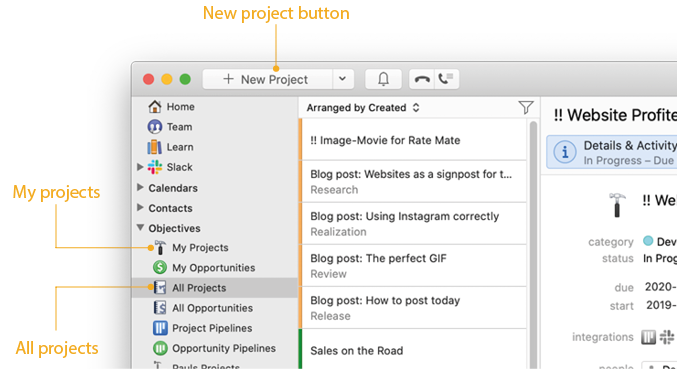 If you're not viewing projects click the downwards arrow next to + New button and choose New Project.
Please note: Use the iOSXpert plugin Boards for Daylite for your project management and manage your projects clearly arranged with Kanban Boards.
From an email
Most projects are started via emails. Daylite comes with the Daylite Mail Assistant, a plugin for Apple Mail. It allows you to create Daylite objects like projects from your inbox and to link them to emails at the same time.
Click New Project in the Objectives section on the right
Enter the relevant details
Click Save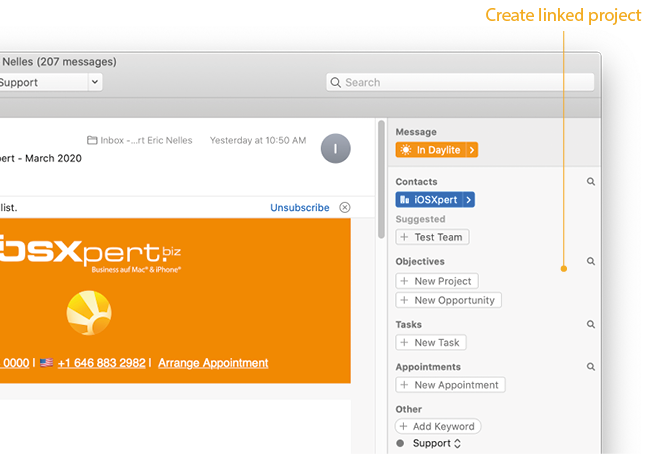 From an opportunity
If you are planning to make a project from an opportunity you don't have to start over again. Create a project from an opportunity and keep all relevant information.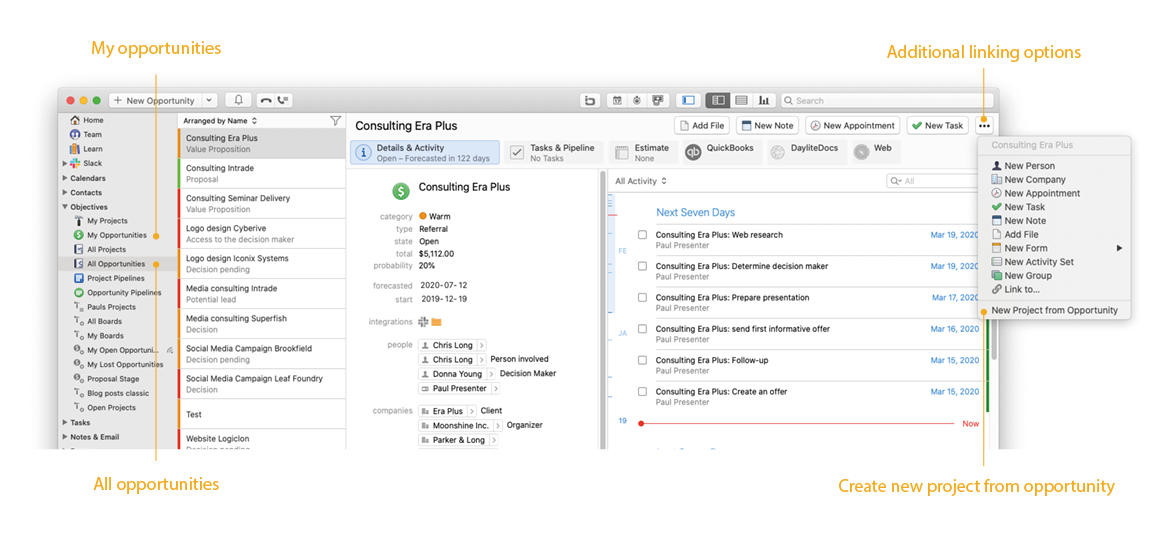 Using iPhone and iPad
Projects that you create on iPhone and iPad are synchronized with your other Daylite devices to amke sure you always have the latest details.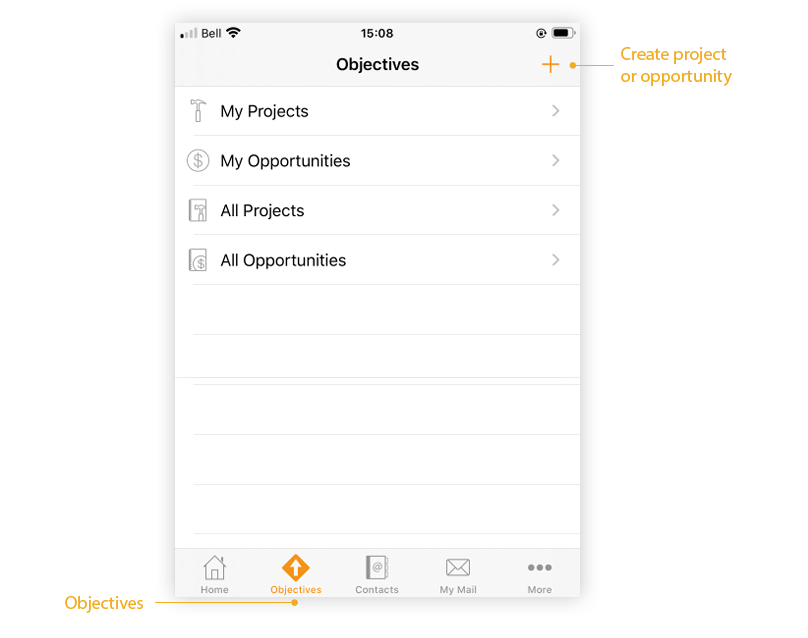 Navigate to the Objectives section at the bottom
Tap + button
Tap New Project

How to add details and tasks
Daylite offers many data fields for your projects. Add the information piece by piece as you get them.

The Basics
Projects should have a name, start date, due date and a description in the details field. You can add more fields via the add field button. Additional fields can be found in custom fields and forms.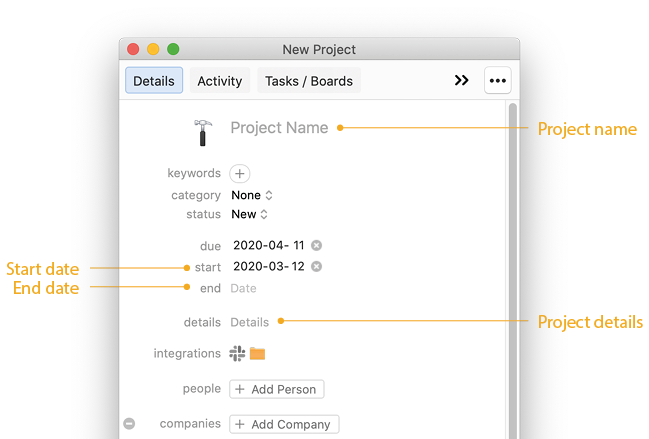 Please note: Do you want to use the same field multiple times? Add it as a standard field. Go to Daylite -> Preferences and choose Default Values. Click Projects and add the fields you always want to see.
Custom Fields
Custom fields add flexibility, providing 12 additional fields and 4 extra date fields for the data you need to capture.


Editing fields
Navigate to Daylite > Preferences > Custom Fields
Click Projects
Enter the name for the custom field you'd like to use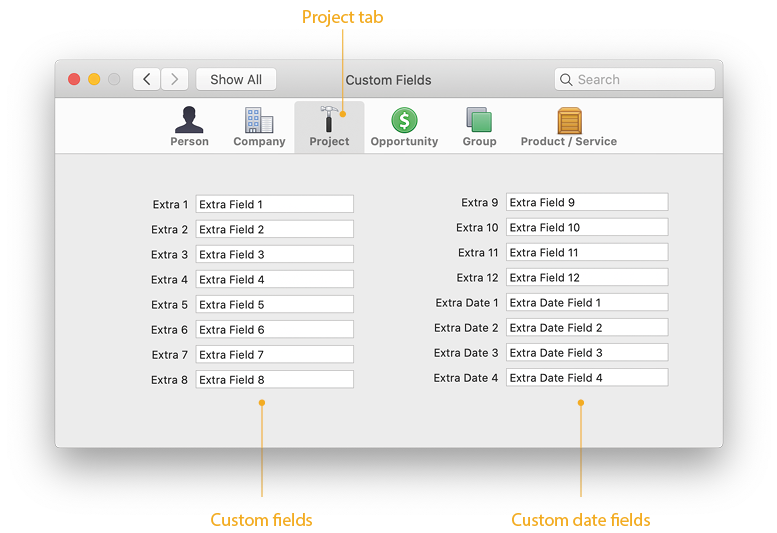 Use multiple custom fields with forms
You can achieve more customization and have additional fields via forms. This is great for projects that require you to log a lot of information.
How to categorize a project
Once you have captured the basic data it's time to classify the project. Categories and keywords allow you to sort, filter and segment your projects so that you can see which project categories you work on the most and to help improve your productivity. Using roles you can quickly see who is responsible and who should interact with the client.
Categories
A category is the highest form of classification. A project can only have one category.
Here are a few examples for categories for projects:
Product or service

personal coaching
group training
presentation

Customer related
Which department?

marketing
HR
management team
To select a category, click the dropdown menu. If no category fits, click edit categories to open the preferences for categories and create a new one.

Keywords
Keywords are a flexible way to classify projects. A project can have as many keywords as you like. Here are a few examples for keywords to classify projects:
Objectives

rework website
business growth
increase customer satisfaction

Client information

recommendation
big order
family/friend

Additional service or product options

extra photographer
2-week coaching
2 bedrooms
To add a keyword, click the + icon next to keywords and enter the keyword you'd like to use.

Roles
Define roles, for example the project manager, designer or decision maker. Then add clients to make sure that you always have the correct contact person at hand.