Connect the web-based accounting software QuickBooks Online with Daylite trough the plugin FinanceConnector. You can transfer customer data in no time from Daylite to QuickBooks to create invoices or offers for services or products.
You will learn by reading this article how to setup the FinanceConnector for integrating QuickBooks Online with Daylite.
Use the Daylite menu bar on top of your screen to navigate from the Daylite Preferences to the iOSXpert PluginCenter
In the sidebar, navigate to Preferences and choose QuickBooks as your the invoicing system by using the drop-down menu

If you already have a QuickBooks Online account, click on the orange Sign In button. If you're new to QuickBooks, please click on the green button to Create New Account
Enter your QuickBooks account credentials and click on the green Sign in button
If you have multiple companies, connected to this QuickBooks Online account, select which one you want to sync with your Daylite database
The next screen shows what kind of data will be transferred through FinanceConnector out of Daylite to QuickBooks. Scroll down and click on the green button to Connect
You should see now that the status changed to Connection established
In step 3 you can map the Daylite categories to the QuickBooks product/service
This step is for QuickBooks users outside of the USA. You need to assign a QuickBooks tax for every Daylite tax

You can import QuickBooks products and services into Daylite to use them to create a quote in Daylite.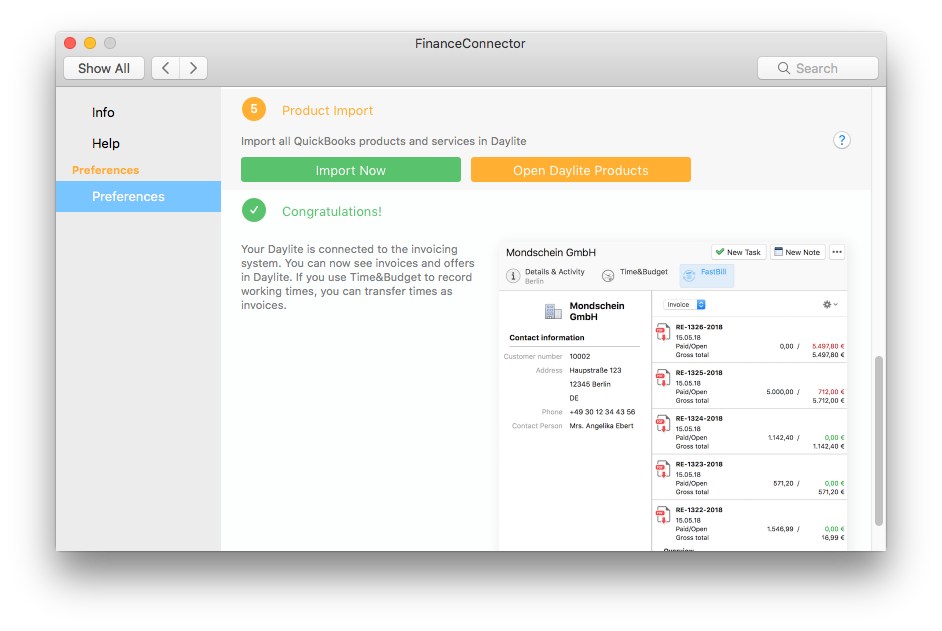 Related articles
What is the FinanceConnector?
How to view QuickBooks invoices and estimates in Daylite
How to transfer contacts to QuickBooks using the FinanceConnector
How to use Finance Connector with Time&Budget